Tickers: PINX:MLYFF, XTSX:NVM
Tags: Mining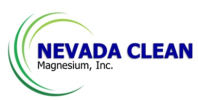 VANCOUVER, BRITISH COLUMBIA / TheNewswire / July 26, 2018 - Nevada Clean Magnesium, Inc. (TSXV: NVM; Frankfurt-M1V; OTC Pink Sheets: MLYFF) ("NCM" or the "Company") is pleased to announce that it has contracted Industrial Surplus Ltd. ("ISL") located in Fort St John, British Columbia, to build the newly designed continuous silico-thermic reduction furnace.
When Big Blue Technologies LLC. commences fabrication of its continuous carbo-thermic reactor and liquid phase condenser, ISL will also provide technical support for instrumentation, electrical and operational programing.
The completion date for the silico-thermic furnace is expected to be fall of this year, It be capable of using the modified "Alpha" liquid phase condenser once the test work on the carbo-thermic continuous process is completed.
Industrial Surplus Ltd. will be issued a total of 2.5 million shares of common stock of NCM as compensation for the services rendered and expenses incurred in the construction of the furnace, at a deemed price of $0.05 per share.
The shares will be issued as follows:
a.1,250,000 at the time of completed procurement of materials.

b.1,250,000 at the time of total furnace construction with complete instrumentation.
Construction of the furnace is expected to be completed mid fall 2018 with the testing program to begin shortly thereafter.
This transaction is subject to TSX Venture Exchange approval.
About Nevada Clean Magnesium, Inc.
Nevada Clean Magnesium is focused on becoming a major U.S. producer and distributor of primary, high grade, low cost magnesium metal extracted from its 100% owned Tami-Mosi property located in North Central Nevada. Based on the Company's NI 43-101 Preliminary Economic Assessment Report published in September 2011 and amended in July 2014, the Tami-Mosi Project has an inferred resource of 412 million tonnes with an average grade of 12.3% Mg for a contained metal content of 111 billion pounds of magnesium using a 12% cut-off grade contained within a high purity dolomite block. For more information, please visit www.nevadacmi.com.
Qualified Person
The technical portion of this press release was prepared under the supervision and review of James Sever, P. Eng., and COO for Nevada Clean Magnesium. Mr. Sever is a non-independent qualified person within the meaning of National Instrument 43-101 standards.
Neither TSX Venture Exchange nor its Regulation Services Provider (as that term is defined in policies of the TSX Venture Exchange) accepts responsibility for the adequacy or accuracy of this release.
Forward looking statement
Statements in this news release that are not historical facts are forward-looking statements that are subject to risks and uncertainties. Forward-looking statements in this news release include statements about building of a pilot or continuous furnace, timing for completion, expected results and benefits of the pilot or continuous furnace, that the results will allow us to finalize our full scale furnace design and better understand efficiencies, and that magnesium has increased demand and new applications. .
Actual results may differ materially from those currently anticipated due to a number of factors, including that we may not obtain regulatory approval for the transaction, results may not be as we expect, the pilot or continuous furnace may not be completed or may be completed later than expected, the Company's dolomite reserves may not be mined because of technical, regulatory, financing or other obstacles, the market price for magnesium may make our resources uneconomic, and other risks associated with being a mineral exploration and development company. These forward-looking statements are made as of the date of this news release and, except as required by applicable laws, the Company assumes no obligation to update these forward-looking statements, or to update the reasons why actual results differed from those projected in the forward-looking statements.
To Reach Nevada Clean Magnesium
Please Contact: Edward Lee, at 604-210-9862
For up to the minute news, industry analysis, and feedback follow us on
Facebook, Twitter, and LinkedIn

Copyright (c) 2018 TheNewswire - All rights reserved.